Losing Hope but Keeping Faith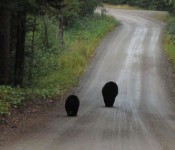 I am heartbroken.  As I sit and wait with countless others connected to the North American Bear Center's(NABC) Lily the Black Bear project, I can't help but feel forlorn. Losing Hope, the yearling daughter of Lily whose birth was viewed online by thousands is missing and presumed murdered by a hunter. I use the term murdered because that is how it feels to me. This hunter set out this season to kill Hope.
Lily and her family have over 132,000 Facebook fans and the news that she is missing has been devastating, prompting thousands of responses from other bear watchers like me, mourning the loss of our Hope.  The bear watchers are not just from the United States. Lily, Hope and Faith have a following in 132 countries and students at over 500 schools have been following the bear family. Many teachers in tears this
weekend, were seeking advice of what to tell their  students about what happened to Hope and how to answer the questions that will be coming from the young minds. Why would this hunter shoot such a small bear?  Why Hope? Why indeed.
This is a question for which there is no answer. We as adults are perhaps used to bad news and accidents and yet we are struggling for closure. When Jason, Lily's cub died earlier this spring, it was a huge loss and the bear community grieved his passing. The elementary children were sad but accepting of his untimely death.  But Jason's death was not intentional.
Hope's death, and all signs are pointing towards that being the case, was caused by some mean-spirited ego maniac toting a rifle.  This hunter knew the location where he set up his bait station was Lily and her cubs Hope and 8 month old Faith's territory range. Lily is the only female collared bear with both a yearling and a young cub. Even level headed Dr. Rogers wonders if this hunter deliberately sought out Hope. This hunter may have posted messages on a Facebook page with only 50 fans called "Lily, a bear with a bounty" where the subject was "Hope jerky" or "Hope cooked in a crockpot."
I do not want to debate whether or not bear hunting should be legal. I don't want to try to understand the mentality of the type of person that baits an animal, then waits in a tree only to shoot the animal for "fun".
I had the privilege of meeting and learning from the Maasai in Kenya this past July. The Maasai live among the lions with a deep tradition of respect for wildlife. They do not kill for "fun".  Even though I  don't like it when the Maasai take down a lion,  I understand that the human-wildlife conflict is complicated. When an individual lion attacks your livestock, your boma, your family, there is a logical explanation as to why the warrior would have headed out with spear to end the life of the intruding lion.
This was not the case with Hope. This hunter  was not protecting his livestock, his home or his family.  He was not hunting bear because this bear may be the only food on the table to feed his children.  He was hunting for "sport", for "fun". I  believe that he knew exactly what he was doing when he set up the bait station and waited for Lily and her family.
A normal hunter, would not be bragging about Hope Jerky. A normal hunter would not have sought out with the intention of killing one particular bear.  A normal hunter would not derive pleasure from the suffering of so many. A normal hunter would have registered the bear within the 48 hour required timeframe.
This hunter is a lunkhead with no regard for science, education or for the future of wildlife in the region. He and
his cronies  perhaps thought it would be a "hoot" to take down this beloved bear. You know, the bully on the playground type.   This hunter's reason for killing Hope is untenable.
Others, that are  wannabe scientists,  are posting their comments on the Lily page about how they know more about bear research than Dr. Rogers has learned in his  over 30 years of dedicated study. Yea, that's right peabrain, the next time you need a root canal just call a plumber.  No need for no "book learnin".
It is the most difficult part of studying wild animals. We know that there will be losses. These losses are hard enough when they happen from natural causes.  The documentary film The Last Lions, will break your heart but leave you hopeful. The resilient lioness struggles to raise her cubs alone  against the odds in Botswana's Okavango Delta. Ma di Tau's ("Mother of Lions") battle is filmed  against the unspeakable beauty of the  Botswana landscape and leaves the viewer breathless. The only thing that saves one's heart from  irreparable  damage is that the lives  lost in the film were  not at the hand of a greedy human.
The loss of Hope to a senseless killer is shattering and leaves us struggling for the faith to keep going, to believe  we can and do make a difference. At times, even at over 132,000 strong we feel outnumbered by the callous and cold-hearted. The Last Lion's  tag line reads "The Most Powerful Force in Nature Is A Mother's Love", and Lily's face tells it all doesn't it? She is telling us what we already fear, that Hope is gone.
We will pick up the pieces, grieve in our own ways, and hopefully be ready to participate in the bear study when Lily and Faith enter their den. Until then, we wait for confirmation of what we already know. We have lost Hope, but we are keeping Faith.
"Give me a song, a song for a sadness too vast for my heart, for a rage too wild for my throat. "
From the poem "Bestiary", by Joanna Macy
Share your thoughts, post a comment.