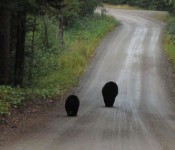 I am heartbroken.  As I sit and wait with countless others connected to the North American Bear Center's(NABC) Lily the Black Bear project, I can't help but feel forlorn. Losing Hope, the yearling daughter of Lily whose birth was viewed online by thousands is missing and presumed murdered by a hunter. I use the term murdered because that is how it feels to me. This hunter set out this season to kill Hope.
Lily and her family have over 132,000 Facebook fans and the news that she is missing has been devastating, prompting thousands of responses from other bear watchers like me, mourning the loss of our Hope.  The bear watchers are not just from the United States. Lily, Hope and Faith have a following in 132 countries and students at over 500 schools have been following the bear family. Many teachers in tears this
weekend, were seeking advice of what to tell their  students about what happened to Hope and how to answer the questions that will be coming from the young minds. Why would this hunter shoot such a small bear?  Why Hope? Why indeed.
This is a question for which there is no answer. We as adults are perhaps used to bad news and accidents and yet we are struggling for closure. When Jason, Lily's cub died earlier this spring, it was a huge loss and the bear community grieved his passing. The elementary children were sad but accepting of his untimely death.  But Jason's death was not intentional.
Hope's death, and all signs are pointing towards that being the case, was caused by some mean-spirited ego maniac toting a rifle.  This hunter knew the location where he set up his bait station Read more