Because of Winn-Dixie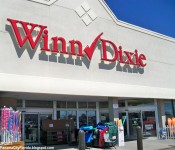 I was given about a week's notice that I would be attending one of the company's group meetings in Jacksonville, Florida. I took advantage of this trip to schedule an appointment to meet with Winn-Dixie, because their headquarters is also located in Jacksonville.  We would be going to the headquarters of one of the largest food brokerage companies.  I was happy to participate as my experiences with this brokerage company had been pleasant and the opportunity to learn and digest some demographic data and consumer insights appealed to me.
I was given no details whatsoever.  I did not know where we were staying, when I should plan to arrive and depart, if I needed a rental car, the usual and customary information shared among colleagues planning a meeting.  Five days before the meeting, after no success at securing this information from the president or the equity guy, I called the VP of Sales.  I was shocked to find out that he did not know any more than I did except the name of the hotel where we were going to be staying.  So I booked a flight in the day before the meeting and out the morning after the end of the second day, what else could I do.  I reserved a room and a rental car.  Standing in line at the Jacksonville airport Hertz rental car line, I get a call from the president telling me not to get the rental car.   He said he had a car and I wouldn't be needing one.  I tell him I want to purchase a few items at the grocery store as I try to stay eating as healthy as possible even on the road.  He promises  they would take me, so I acquiesced, left the rental car line and met him at the passenger pick up area.  The equity guy was already with him, so it would be the three of us.
Instead of going to the hotel and meeting up with the rest of the team, we head to downtown Jacksonville for dinner.  We find a nice place on the waterfront and sit down for dinner. A lovely view of the the Jacksonville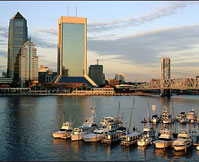 Harbor made up for the less than interesting company.  There is absolutely no discussion about the company and what the agenda is for the next couple of days.  The president and the equity guy  toss back several cocktails and then order a bottle of wine with dinner.  I listen to the same baseball stories I heard in July at the restaurant in Ohio.  When I ask about the rest of the team and what to expect over the next two days, they both look at me like I am speaking Farsi.  Whatever.
The next morning at breakfast, while the president consumes copious amounts of sugar laden pastry, at least the equity guy seems somewhat concerned about his well being by eating oatmeal and a piece of fruit.  They sit and make fun of a couple of the regional sales managers and I feel uncomfortable listening to their juvenile banter and shift in my seat.  Strange behavior for grown men in their positions.
I get to skip out of the morning's regional sales manager reviews because of Winn-Dixie.  I have scheduled an appointment to meet with the category manager at Winn-Dixie about our new frozen pizza. I knew Doug and had a good working relationship with him.  While packing up my bag to head out the door, the president tells me that the equity guy will be going with me to the Winn-Dixie appointment.  I stopped and gave him a quizzical look.  I couldn't figure out why he would be going to this meeting with me but I thought I should be a "team player" and make the best of the situation.
The equity guy had to drive, and even though I had the directions to Winn-Dixie in my hand, he refused to listen.  He made wrong turn, after wrong turn and put us at risk for being late for the appointment.  We rushed into the lobby with only a couple of minutes to spare. I really hate cutting appointment times so close.  The equity guy seemed oblivious, didn't matter, he was whistling some tune out loud, causing everyone in the lobby to stare at him and for me to feel embarrassed for being with him.   This omen I should have taken more seriously. Waiting for Doug, the equity guy  babbles on about Winn-Dixie and their recent bankruptcy filing.  Wow, how inappropriate can you be? Other vendors are now uncomfortable and shifting in their seats.  The receptionist and I made eye contact so I rolled my eyes to show her that I too thought he was a complete idiot.
Doug came to greet us and we followed him back to the cafeteria area.  There was some work being done in the building and he said that it was just too loud in his office at the moment. Doug offered us something to drink, I declined, but of course the equity guy had to ask for bottled water.  When Doug returned, we chatted for a few moments about Jacksonville, how he and his family were doing, the usual pleasantries.
I gave him my condensed pitch on the new pizza.  Doug is astute.  There was no need to spoon feed him the history of pizza or as the equity guy would prefer the history of fire, that led to cooking, that eventually led to pizza.  Doug understood the concept but expressed concern over the turkey pepperoni, as another item  they had with turkey sausage was not doing well at the time.  Instead of allowing me to  discuss the positive reasons we chose turkey for the heart healthy pizza, the equity guy started asking Doug about the  Winn-Dixie's bankruptcy ,  their plan for reorganization, if Doug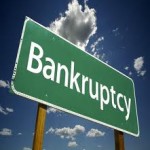 felt secure in his job, and if he thought it was the right thing for Winn-Dixie to do.  Wishing I would have had that bottle of water now, because my mouth was dry from the adrenaline rush as I grew tense from listening to this imbecile. Doug looked at me then looked back at the equity guy  and said," I do my job to the best of my ability.  Then I go home to my family and enjoy my life."
Now most normal people would never had said the things that the equity guy did, but even if they had suffered an aneurism or some equally scary ailment  and let something so stupid slip out of their mouths, when Doug gave the answer that he did, even the mentally impaired would have stopped at this point, but not the equity guy.  No,no! He again asks if Doug feels that his job is secure and if the whole company will be able to survive.  He then asks if Winn-Dixie will be able to pay us for all the pizza that they will be purchasing from us.  Oh, for freaking crying out loud! My skin breaks out in goosebumps.
Doug's response, " I think that is the least of your worries.  Oh boy, look at the time.  I have to go to another appointment. " Doug shook my hand and squinted his eyes slightly.  I will call you he said.  I thanked him for his time feeling my face still red with embarrassment.  The equity guy sticks out his hand and asks if Doug will be making a decision in the next few days.  Oh sooner than that quipped Doug, glancing back at me with a look mixed with sympathy and puzzlement.
I let out a heavy sigh walking back to the car.  The equity guy comments that he thinks the meeting went well. and that it was  a good thing he was there to ask the tough questions.  I didn't answer. There was traffic noise, I pretended that I didn't hear him.
A couple of months later at the Frozen Food Convention in San Antonio, Texas,  Doug's boss Joe, who I had known for about seven years, asks me how the hell I got connected to that equity guy. I shook my head and took a deep breath. I have made a big mistake Joe, I said looking him straight in the eyes.  He gave me a big bear hug and said , "You will be ok, just dump these guys."   And then lifted his glass and said, "  Remember the Alamo! Forget fear and charge ahead." Well ,we were in San Antonio.
Share your thoughts, post a comment.