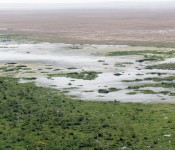 Driving through the entrance to Amboseli National Park, in southern Kenya, the vehicle was filled with suspense as we kept our eyes fixated on the green swampy landscape.  And then, elephants.  Wild elephants everywhere.  The vehicle fell silent as we  watched in awe the enormous gray figures swaying, ears flapping, tails swishing, tusks shining. Tears welling in our eyes in the euphoria of the moment.
Every single one of us had seen elephants in captivity at some of the best zoological parks in the world. But nothing, absolutely nothing could compare to seeing so many magnificent elephants living in the shadow of Kilimanjaro. Stoic creatures. Beautiful. Their flashy white tusks gave off an ethereal glow against the backdrop of bright green and blue sky. Tusks gleaming in the daylight, a source of their beauty and of their demise.
Read more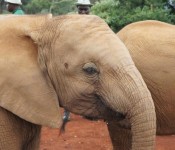 Tomorrow we celebrate the Feast of St. Francis of Assisi, the patron saint of animals.  This year when I reflect upon the life and works of Giovanni Francesco di Bernardone, one of the most venerated religious figures in history, I can't help but think about an amazing man named Edwin Lusichi, the Head Baby Elephant Keeper at The David Sheldrick Wildlife Trust in Nairobi, Kenya.
Read more